Isagenix Isalean shakes
The meal replacement shakes, Isagenix IsaLean shakes is one of Isagenix's most popular product and  they say it is a nutritious, balanced meal replacement with protein, energy-boosting carbohydrates and good fats that promotes reduced carvings, healthy, weight loss, and fat burning while building strong lean muscle mass. A brief inspection of the product will make you accept the statement made by Isagenix at once. The Isagenix IsaLean shakes do have a good amount of protein per serving with a total of twenty three vitamins and minerals and do have a very nice flavor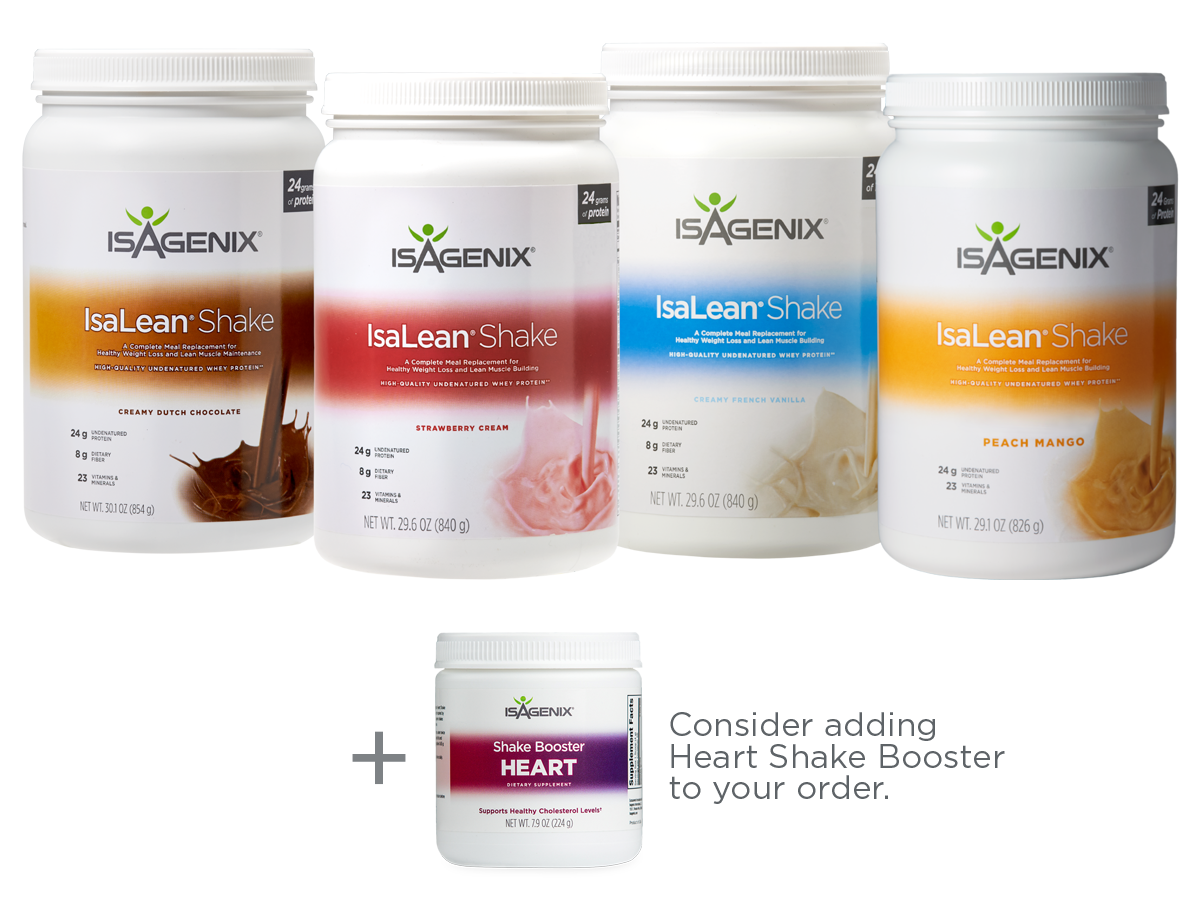 as well. In this review, we will take a look at the Isagenix Isalean shakes before you decide to get yours.
How many calories has Isagenix IsaLean shakes?
Per serving, Isagenix Isalean shakes contains 240 calories in 60 grams worth of powder. The number may look high in contrast to other shakes but in consideration with the weight per serving, it is ok.
What is the amount of protein per serving?
Isagenix Isalean shakes contains 24 g of protein in a packet of 60 g which make forty percent of the whole packet's total weight. The packet also contain 24 grams of total carbohydrates and 5 grams of total fats. There are several other nutrients like 45 milligrams of cholesterol, 320 milligrams of potassium and 260 milligrams of sodium.
What are the vitamins and minerals that make up Isagenix Isalean shakes?
Vitamin C
This vitamin wards off tiredness and helps to protect your body's immune system
Vitamin A
It strengthens your body's immune system and help boost cell growth
Vitamin D
Decreases the risk of diabetes and promotes absorption of calcium
Vitamin E
Fight free radicals and promotes a healthy immune system
Vitamin B
Supports muscle function and nerve cells
Calcium
Strengthen bones and helps to promote healthy weight management
Iron
Promotes production of hemoglobin and increases energy
Vitamin B12
Crucial for red blood cell production
Vitamin B6
Breaks down the proteins we consume daily
Riboflavin
Vital for energy production and electron transportation
Niacin
It promotes healthy levels of good cholesterol and lowers the bad one
Biotin
Promotes healthy nails and skin
Magnesium
Supports healthy kidneys and heart
Phosphorous
It supports bone and muscle health
Selenium
Selenium helps to fight free radicals and reduces odds and certain cancers
Zinc
Supports the respiratory and immune system
Copper
Increases energy and supports healthy bone structure and metabolism
Pantothenic acid
Helps to convert food into energy
Iodine
Strengthens the thyroid
Molybdenum
Helps metabolize important amino acids
This is the nutritional fact of the IsaLean shakes
Does Isagenix Isalean shakes taste good at all?
There are currently five flavors of the shakes, Dutch chocolate, Orange cream, Creamy French Vanilla, Black sesame and the Strawberry cream. The Creamy Dutch chocolate is the favorite of lots of people followed by the Creamy French Vanilla. But all the flavors are really good.
These shakes are quite sweet so you do love sweet things, then there will not be any better choice among the meal replacement shakes available out there but is still effective. Isagenix IsaLean shakes is not only tasty but consistent, it is quite thick compared to other shakes. You might begin to think that this is going to be a problem as it will be difficult to get a nice mix like the thinner profiled shakes. Well, this one is an exception. You will virtually not have clumps when you mix it with water and when mixed with milk, the clumps will be too minimal. The Isagenix Isalean shakes taste and consistency makes it stand out as one of the most tasty meal replacement shakes.
A brief summary of what you need to know about Isagenix Isalean shakes
Isagenix IsaLean shakes contains 23 vitamins and minerals. What makes this formula to stand out from others is the addition of selenium, molybdenum and manganese which are not found in lots of meal replacement shakes out there.

The source of its protein is from "Cheerful Cows" –cows that have been treated with routine antibiotics or hormones. So its proteins is free from hormones and routine antibiotics

It has one of the highest protein in each single-serving packet of about 24 grams compared to lots of meal replacement shakes. So it has high quantity of protein

It is able to curb hunger for a very long period of time compared to a lot of meal replacement shakes. They are very effective at curbing hunger.

High in sugar content. A single packet of IsaLean contains eleven grams of sugar which makes it really sweet compared to other meal replacement shakes.

Isagenix IsaLean shakes can be blended with water as well as milk to make an instant drink.

Isagenix says IsaLean is one of the superior meal replacement shakes out there due to its low sodium, cholesterol and fats and high nutrient value
A lot already said about the Isagenix Isalean shakes, you probably know already that they have enough proteins to build your muscles, thicker in consistency, sweeter in flavor and are able to curb hunger for a substantial amount of time. Personally, I will recommend this one for anyone who will like to have a great experience both in their events and products. Just give it a try, it might be what you are looking for.